Изображение: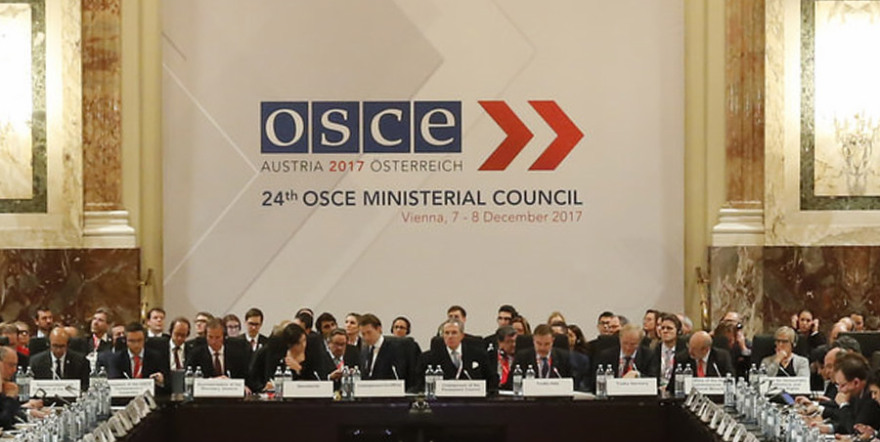 From Conflict to Engagement: Threat Perceptions in the OSCE Area
Vera Axyonova, Victoria Bucataru, Alexander Graef, Dzmitry Halubnichy, Alla Leukavets and Julia Wanninger
Security in Europe: What is at stake?
Today European security in general and conventional arms control more specifically remain topics for specialists. They both lack broader public awareness. Moreover, the level of knowledge concerning basic security issues and force posture among European constituencies is low. This creates a gateway for misinformation and propaganda, which eventually heightens alarmist voices, particularly under conditions of mutual distrust. In August 2016 the then German Minister of Foreign Affairs Frank-Walter Steinmeier put forward a proposal for renewing discussions about conventional arms control in Europe. Supported by a group of like-minded states, the OSCE declaration signed in Hamburg in November 2016 welcomed the launch of a Structured Dialogue on both current and future challenges and risks to security in the OSCE area. Although there is currently no agreement on how to repair the European security order, most actors agree that there is a greater need than ever to increase predictability by enhancing mutual understanding of motives and interests. Without this, it will be impossible to create a positive policy agenda and return to deeper levels of engagement. In this context, we suggest starting work on finding ways to decrease the gap between existing threat perceptions among OSCE members by focusing on two ideas: the creation of a threat perceptions matrix and an online debating platform on European security.
Taking Stock: The Threat Perception Matrix
The Threat Perception Matrix (TP-Matrix) would provide a framework for thinking about security relations in the OSCE area after 2014. It would serve as a measure for evaluating and comparing perceived internal, external and transnational threats to national security (see Table 1). Although the TP-Matrix recognises the distinction between internal, external and transnational threats at an analytical level, it will show that, in practice, the borderlines between these categories are blurred, they are interlinked, and it is difficult to disentangle them empirically.
Table 1: Typology of Threats
| | |
| --- | --- |
| Threat | Explanation |
| External | Emanates from outside the country and includes but is not limited to military aggression, international pressure (in the form of sanctions or embargoes) and information warfare. |
| Internal | Originates from within the country and relates to weak governance capacities, caused by corruption, organised crime or financial disparities. |
| Transnational | Deals with the phenomenon of cross-border scope, the dynamics of which are significantly, but not exclusively driven by non-state actors and includes activities such as terrorism, human trafficking, migration and cyber threats. |
The larger goal of the TP-Matrix is to take stock of the diverse approaches to security among OSCE members. Both the process of conducting the necessary research and the final results will thereby contribute to sharpening perceptions of areas of normative divergence.
The TP-Matrix could be envisioned as a follow-on project to the 'Threat Perceptions in the OSCE-Area' report published by the OSCE-Network of Think Tanks and Academic Institutions in April 2014. Because the analysis was completed before the dramatic events in Ukraine, it does not cover the subsequent developments in Western-Russian relations, which have led to a new wave of divergent threat perceptions, building upon tensions caused by previous crises in Kosovo (1999) and Georgia (2008). Hence, there is a need to assess the long-term impact of the crisis in and around Ukraine, its spill over effects and the implications for different dimensions of security and threat perceptions in Europe and beyond.
The project will deploy a robust methodology to map and quantify security perceptions in the OSCE area. The methodological framework will consist, inter alia, of expert interviews, public opinion polls and discourse analyses of a set of primary sources deemed representative of national security debates. The sources of data for such analyses will include state policy documents; parliamentary publications; academic publications and newspaper articles. The results of both public opinion polls and discourse analyses will be supplemented by several semistructured interviews with experts and political elites in each of the case countries.
The application of different methods will allow the triangulation of research results, which will enhance their validity. As a result, through analyses of divergences and convergences of perceived threats in the participating states, the TP-matrix will provide a firm empirical ground for debate.
It can thus encourage discussion on ways of preventing new dividing lines in Europe and will help to elaborate a more structured approach in addressing current threats and challenges.
Debating Security: security-in-europe.org
At the present time the lack of public knowledge and the difficulty non-experts face in trying to differentiate accurate from false and misleading accounts heightens an already alarmist atmosphere. The heated debate concerning the Russian-Belarusian Zapad military exercise in September 2017 is a case in point. Despite evidence to the contrary, preparations for exercises were accompanied by media hype and statements by officials suggesting that the exercise would be used as a cover-up for the permanent deployment of Russian troops or a military attack.
Similarly, exaggerated or even false statements concerning the conventional force structure in Europe are common, which also contribute to negative but unfounded perceptions. Despite their crucial importance for European security, some topics such as non-strategic nuclear forces and ballistic missile defense are practically 'non-issues' in the public sphere. It is therefore difficult for citizens to form considered and informed opinions.
Against this background we suggest the launch of a common European website exclusively dedicated to European security. The larger goal is to create a platform that brings together accurate information and thoughtful discussions, which are currently too widely dispersed, and thereby popularise security issues among both journalists and laymen. The project could also serve as an opportunity to rationalise different approaches and concerns by comparing single positions, taking each of them seriously.
Examples of best practice already exist that inform the public debate based on careful research and expert knowledge (see Table 2). Although the focus of these projects in terms of content, style and target audience is somewhat different from the concept suggested here, they can be regarded as benchmarks for orientation.
The initial project website should be available in both the English and Russian language. In contrast to professional (military) publications to which access is limited either by expensive paywalls or necessary security clearance, the content of the current project must be free and accessible. Because the target audience is the general public, which includes both laymen and journalists, information should be presented in the form of comprehensible articles with background notes, using a journalistic style of writing.
In order to ensure both high-quality content and the maximum different perspectives, the Regional Office for Co-operation and Peace in Europe (ROCPE) of the Friedrich-Ebert-Stiftung in Vienna can reach out to partners and stakeholders in the expert community for cooperation.
These include in particular the OSCE's Network of Think Tanks and Academic Institutions and the European Leadership Network, as well as the International Institute for Strategic Studies (IISS) and the Swedish Defence Reasearch Agency (FOI).
Table 2: Examples of Best Practice
Project
Description
Arms Control Wonk

http://www.armscontrolwonk.com
Internet blog founded in 2004 by Jeffrey Lewis, Director of the East Asia Nonproliferation program at the James Martin Center for Nonproliferation Studies, with a focus on nuclear non-proliferation. The website contains almost 3500 articles and also produces a podcast.
War on the Rocks https://www.warontherocks.com
National security and foreign policy website founded in 2013 by Ryan Evans as a podcast. Today it offers both free content and different membership options on a paid subscription basis that allows users to interact with experts directly.
NATO and Russian Military Exercises, FAZ http://www.faz.net/aktuell/politik/ausland/russia-conducts-three-times-m...
In August 2017 the German daily Frankfurter Allgemeine Zeitung (FAZ) published an article comparing and visualising military exercises by NATO-members and Russia since 2015. For several months journalists analysed press releases, conducted their own research and addressed defence ministries directly. The investigation was conducted in collaboration with the Swedish Defence Research Agency (FOI).