Изображение: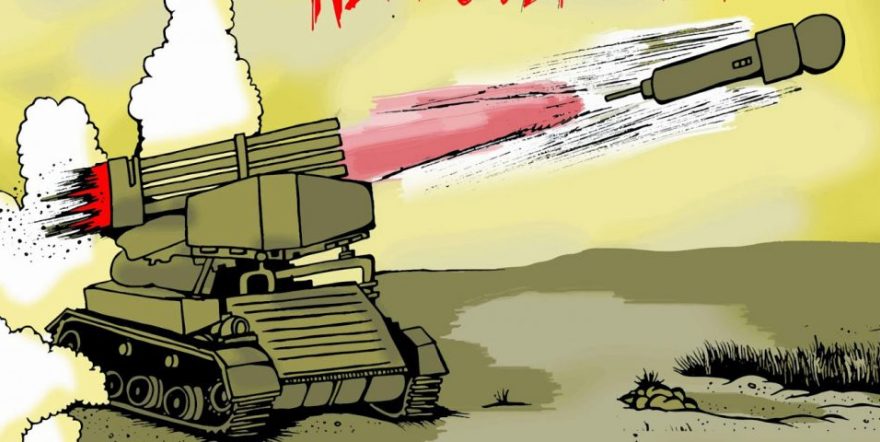 The NATO-Russia confrontation as one of New Cold War's manifestations has direct implications for the independence, sovereignty and national security of Belarus. There is a risk Russia will manage to transform Belarus into its outpost in the New Cold War in order to generate conventional and hybrid threats to NATO states and Ukraine. Kremlin may also destabilize the political and military situation in Belarus if it is decided that President Lukashenko is overcrossing imposed red lines or Moscow is losing control to influence political processes (for example, transit of power).
Russia's Nuclear Diplomacy
Analysts and experts have been having a lot of discussions since the beginning of Russia-Ukraine conflict in 2014 whether relations between Russia and the West may be characterized as a New Cold War. Yet, on 9 October 2016, after the Russian president Vladimir Putin tried to provoke Cuban-like Missile Crisis in the Eastern Europe by deploying nuclear-capable missile systems "Iskander" in Kaliningrad, it is without doubt at its height now. Every large-scale military exercise of the Russian Armed Forces, especially in the Western military district, has not been without the use of at least tactical nuclear weapons. For example, on October 12, 2016, Russian strategic nuclear forces successfully launched three intercontinental ballistic missiles during the exercises. It is not for the first time that Russia is sending nuclear messages to the West. Sudden readiness checks of the Russian strategic nuclear forces have become the new normal since the beginning of Russia-Ukraine conflict.
On one hand, Moscow is sending such messages to the West in order to demonstrate its resolute willingness to defend Russia's strategic interests by any means. On the other hand, Kremlin is sophisticated in exploiting Western strategic fears connected with nuclear war scenarios. In this regard, it serves as a psychological leverage to undermine the unity and solidarity within EuroAtlantic allies.
New Cuban-Like Missile Crisis and Escalation Strategy
Normandy format, Syrian military campaign, MH17 investigation are complicating Russia's international position and possess risks of imposing new sanctions against Moscow. In this context, the Kremlin is escalating confrontation with the West in order to persuade it into making concessions.
The Cuban Missile Crisis in 1962 resulted in the compromise between the U.S. and the USSR. Moscow refused its plans to deploy Soviet medium-range (SS-4) and intermediate-range (R-14) ballistic missiles in Cuba while Washington agreed to dismantle medium-range ballistic missiles (PGM-19 Jupiter) in Turkey and Italy against the Soviet Union and gave guaranties of nonaggression against Cuba. The Moscow — Washington hotline was established and a series of agreements sharply reduced U.S. — Soviet tensions during the following years.
By provoking Cuban-like missile crisis in the Eastern Europe, Vladimir Putin urges the West to seat down at the negotiating table to find a new compromise in the World powers style. On October 21, Russia already announced the agenda of these negotiations. The Russian parliament adopted a bill suspending the plutonium disposal agreement with the U.S.3 According to the bill, Russian President Vladimir Putin may make a decision to renew cooperation with the US in this sphere if Washington reduces military infrastructure and the number of U.S. troops in NATO member-states that joined the Alliance after September 1, 2000, to the level at which they were when the plutonium deal entered into force. Moreover, the U.S. should reject its hostile policy toward Russia by abolishing Sergei Magnitsky Act, as well as lift all sanctions against Russia and cancel Ukraine Freedom Support Act. The bill also stipulates that the U.S. should compensate losses Russia sustained during sanctions, including the damage as a result of Moscow's countersanctions and present a detailed plan on plutonium disposal.
This bill demonstrates Russia's strategic intention to be recognized as a world power like the USSR with its exclusive sphere of interest. Thus, it demands the reduction of the NATO military infrastructure and forces in the Eastern and Central Europe. However, it also illustrates Kremlin's strategic fear to lose the influence and control over the postSoviet space.
Russia's Strategic Fear and Its Implications
Obviously until the Euro-Atlantic community is united, it will not negotiate with Russia in terms of sphere of influences. Russian strategists understand that. That is why they are working on undermining the EuroAtlantic unity, promoting disintegration of the EU and NATO. The Kremlin is actively interfering in the electoral process in U.S., Germany and France, conducting cyber and disinformation operations, supporting populist far right and left political parties and movements.
On the other hand, Moscow is causing instability in the countries along its border as a way of reducing the influence and presence of other world and regional powers in those regions, because Russia is not able to maintain its influence in the region through economic cooperation and "soft power". In the case of Ukraine, Kremlin openly supported (and/or organized) the destabilization of a formally friendly state in 2014. This became the first well-known manifestation of Russia's new geostrategy. That is why Belarus may be the next target of Russia.
On 3 November 2016, Sergey Shoigu, Russian minister of defence, suddenly visited Minsk to discuss Russia-Belarus bilateral military cooperation during the joint board of Defence ministries, which usually takes place once a year. Nevertheless, the visit was not announced beforehand and seemed to be urgent. During the meeting he stated that the US and NATO are increasing their offensive capabilities on the western borders of the Union State of Belarus and Russia. He also defined NATO's plan to deploy four multinational battalions on its Eastern flank as measures for undermining the strategic stability in the region. According to Shoigu, it means that the Union State has to formulate a joint response5. In this context, Russia has already taken "defensive" measures on the Western strategic direction. Moreover, Kremlin is persuading Minsk to join these steps now.
Without doubt, Kremlin is trying to increase its political and military control over Belarus, involving Minsk in different initiatives like deploying Russian air, land and missile bases on Belarusian ground. The forming of the joint military organization of the Union State (to 2018) and conducting joint large scale military drills "West"/ "Zapad" (2009, 2013, 2017) help Moscow to undermine Belarus' image as an open and reliable partner with an independent, predictable and peaceful military and foreign policy.
Current Military Balance in the Region and Belarus
Russia began to increase its military capabilities in the Western strategic direction right away after the Crimean annexation and destabilization of the Eastern Ukraine. Moscow has already established the 1st Guards tank army in the Belarusian direction and redeployed the 20th Guards Army to the border with Ukraine to assist the hybrid war conflict in Donbass. In the context of these processes, Kremlin is going to form new motorized (mechanized) and tank divisions in the Western military district and one motorized (mechanized) division in the South military district. Moscow is also rearranging the 11th Army Corps in Kaliningrad6, providing it with additional facilities to enforce two motorized (mechanized) brigades to division level. According to official statements, Russia undertakes such military steps as an adequate defensive response to NATO's increasing activities in Central Europe and the Baltic. Kremlin motivates the deployment of two motorized brigades close to the border with Belarus in this way as well.
Obviously, Russia is undertaking superfluous and disproportionate measures from the point of view of military balance in the region. Especially because Belarus and Russia still remain allies. According to the statements of Belarusian military officials, Minsk does not assess the deployment of four NATO battalions in Poland and the Baltic as a direct military threat to security of Belarus.
These steps will not significantly change the current military balance between Belarus and neighbouring NATO states. According to the Global militarization index, Belarus remains among the ten most militarized countries in Europe, occupying the 12th place in the overall ranking of 152 countries, leaving far behind Poland (68), Latvia (85) Lithuania (63) and Estonia (25). From this point of view, Minsk does not possess any reasons for concern.
If NATO's activities in its Eastern flank do not generate a direct military threat even to Belarus, the same is true for Russia as well. Nevertheless, Kremlin has been escalating the military situation in the region since the annexation of Crimea using any NATO's decision or move as pretext. Russia has already conducted sudden readiness checks of armed forces in the Western military district with the amount of troops about 100 000, exercising large-scale conflict with NATO on the Baltic and Scandinavian theatres. Sending to Kaliningrad nuclear-capable missile systems "Iskander" and deploying "Kalibr" — capable long-range missile warships and submarines in the Baltic Sea support the fear that Russia may use nuclear weapon in the hypothetical conflict with NATO.
Full-spectrum pressure from the Kremlin to Belarus
In fact, Belarus is in a position of uncertainty with regards to what to expect from Russia. Permanent trade wars between Belarus and Russia have become the new normal since the Ukraine-Russia conflict. Moreover, there is also a possibility of gas and oil wars because there is still no consensus on a new agreement. This is why Minsk has voiced profound dissatisfaction with the efforts of the Eurasian Economic Union and the Union State. These sore spots in Belarus-Russia relations have given reason for the Belarusian leader Alexander Lukashenko to heavily criticise various integration programmes with Russia. He has also expressed his concerns about certain unfriendly actions as "pressure that he would not tolerate".
What's more, at the beginning of this year Kremlin decided to deploy two mechanised brigades not far from the Belarus-Russia border. One of them is stationed in Klintsy, Briansk region, 40 km from the Belarusian border and will be upgraded to a mechanised regiment. The other one is located in Yelnya, Smolensk region, 90 km from the Belarusian border, and will be reinforced to a mechanised division at the beginning of 2017. Because this will be the first time the Kremlin deploys mechanised formations directed towards Belarus, it is necessary to speak about a full-spectrum pressure on Belarus, not only economic one, but political and military as well.
Obviously, the hardliners, who are behind the destabilization of Eastern Ukraine and confrontation with the West, perceive the normalization process of Belarus with the EU and the US as a threat to Russia's influence. For example, Russian military analysts believe that the West will finally separate Belarus and other Eastern Partnership countries from Russia and fix them in its sphere of influence till the end of this year.10 Such analysis sounds problematic, because the normalization with the West has obvious limits, on one hand. On the other hand, Belarus is not planning to join the EU and NATO and even sign an Association agreement with the EU in the mid-term. At the same time, such analysis provides the Kremlin with arguments to put more pressure upon Belarus and even to destabilise the country if Moscow does not manage to stop its shift towards the West and China or lose its political influence as result of power transit to a new independent leader.
Military option for Belarus?
Russia has already developed a military option for Belarus. Moscow will use it if Kremlin's strategists believe that Belarus President Alexander Lukashenko is overcrossing the red lines. In particular, tactical characteristics of Russia's military build-up close to the border with Belarus demonstrates that Moscow is preparing to project its military power on the territory of Belarus in a very rapid manner. In terms of tactical standards for mechanized formations it will take no longer than 8 hours for the brigade in Klintsy to reach the Belarusian city Homel (distance 90 km) by marching. As well as the brigade in Yelnya will pass the distance of 180 km to another Belarusian city Orsha no longer than in 16 hours. Direct highways and railways connect Yelnya with Orsha and Klintsy with Homel. These two cities, Homel and Orhsa, play a strategically important role because they are the largest railway junctions in Belarus. If you control them, you control at least the Eastern and Central parts of Belarus, as well as have an operational space to redeploy troops to Ukraine and Latvia. Because Kremlin deploys mechanized formations directed towards Belarus for the first time during the last 25 years, we need to look for some extra covert motivations. These troops are not enough to represent a direct military threat to Belarus. Nevertheless, after their reinforcement to a regiment and division level in 2017 they will generate about 10 tactical battalion groups, which are enough to conduct hybrid warfare against Belarus (for example, about 15 tactical battalion battle groups from the Russian Armed Forces are operating in Donbass).
Belarus is Preparing for a Possible Donbass-Like Hybrid Conflict
Belarus has recently adopted a new Military doctrine, which pays a lot of attention to countering hybrid warfare. Therefore, the Belarusian Armed Forces are now conducting exercises in preventing hybrid conflicts in order to put the basic provisions of the new Military doctrine into practise. Incidentally, the new Military doctrine of Belarus does not mention "hybrid conflict", favouring the term "internal armed conflict." Since the Ukraine-Russia conflict, they have been conducting drills, which include elements of Donbass-like hybrid scenario. Recent military exercises were completely dedicated to this. On 14-20 September 2016, the Belarusian Armed Forces conducted large-scale military drills11. Despite the fact that these military exercises were planned, they demonstrate a significant shift in security policy as Minsk increasingly takes into consideration possible risks and challenges from Russia. It confirmed that the Belarusian Armed Forces are preparing for a possible Donbasslike hybrid conflict in the light of increasing pressure from the Kremlin. According to this scenario, Belarusian military strategists simulated a situation in which a hypothetical foreign adversary provoked an internal armed conflict in the country with the help of reconnaissance and sabotage groups and illegal armed formations. The Belarusian Armed Forces have been practising neutralising illegal armed groups, securing and releasing captured critical infrastructure objects, and neutralising separatist groups backed from abroad. Assigned tasks also included establishing temporary checkpoints on the state border and main road routes and conducting surveillance along the border. Without doubt, such measures remain necessary only on the Belarus-Russia border due to the absence of any border control, in contrast with the NATO countries and Ukraine. This was the first time that military drills were held over the entire territory of Belarus: officials achieved a uniform distribution of forces in the Western and Eastern parts of the country. What's more, the General Staff emphasised that the main idea behind the exercises was to ensure Belarus is capable of maintaining independence, sovereignty and territorial integrity with its own forces. It also differs from previous military exercises before the Ukrainian crisis (for example "West"/ "Zapad" in 2009 and 2013 or "Shield of the Union" in 2011 and 2015) when Belarus and Russia formed the Regional army group in order to defend Belarus from possible attacks from the West. Many elements of the recent military drills bear strong resemblance to the actions of the so-called DNR and LNR separatist groups in Eastern Ukraine. At the beginning of the Russia-Ukraine hybrid conflict, separatists under the command of Igor Strelkov (Girkin) successfully seized towns and cities such as Slavyansk. They captured important infrastructure objects including the railway stations Debaltsevo and Avdiyivka and Donetsk airport. They crossed the Russia-Ukraine border and received military support from Russia without any problems. It seems that Belarusian military strategists are considering this experience. All formations of the Belarusian Armed Forces were assisted by heavy artillery and Air Forces, which indicates that they were preparing for confrontation with illegal armed formations and separatist groups backed by the armed forces of a hypothetical foreign state. The same situation can be seen in Donbass where the illegal armed formations DNR and LNR are operating with the military support of at least 15 tactical battalion battle groups from the Russian Armed Forces. By conducting such military drills Minsk is expressing its concerns over the economic, political and military pressure on Belarus from Russia and demonstrating its readiness for any scenario, including a coercive one.
Montenegro case
Nevertheless, it seems that the Kremlin is not going to invade Belarus in Crimea or Donbass-like style. The scenarios of the Collective Security Treaty Organization (CSTO) exercise "Interaction — 2015 as well as the joint military exercise of Russia, Serbia and Belarus "Slavonic Brotherhood — 2015" demonstrated another option. Russia is ready to use any destabilization of the militarypolitical situation in Belarus launched by mythic far right nationalists as an excuse to intervene in the internal affairs. This option includes sending troops to Belarus in order "to restore the constitutional order and political stability". At the same time such scenarios are clearly exaggerated and do not correspond to the real situation with the Belarusian far-right nationalist movements, which are very small to be a destabilizing factor. The hypothetical infiltration of illegal armed groups from the territory of Ukraine is impossible because of the special political relations between the official Minsk and Kyiv. Nevertheless, even if the situation is being changed and some irregular armed units uncontrolled by the Ukrainian government try to attack Belarus, Minsk has recently strengthened border infrastructure with Ukraine and several military drills with special operation and border guard forces were successfully conducted to prevent such hypothetical attacks. Thus such scenarios developed by Russian General Staff illustrates clear Kremlin's intention to destabilize and then project military power rather than to improve security situation in the region. It means that first of all Kremlin needs to launch destabilization in Belarus, as well as agents of influence among Belarusian political elite, who will request official military support from Russia. Recent activities of Russian secret services in Serbia and Montenegro show the possible sabotage tools and terrorist tactics, including a coup attempt and killing the prime minister of Montenegro, among the possible scenarios. This is fully applicable in Belarus if Kremlin feels it is losing control over here.
Implications and Conclusions
After Russia might implement such scenario, Kremlin would receive unlimited military and political control over the territory of Belarus to operate against NATO states and Ukraine from it. Belarus plays a crucial role in Russia's strategic military planning as a buffer zone with the NATO, operational space and land bridge to Kaliningrad in the case of conflict. That is why political and military control over Belarus is an issue of great importance for the Kremlin. Obviously, Minsk is not interested to join Russia's confrontation efforts with the NATO and the West. Belarus is no longer seen as the "last dictatorship in Europe" but rather as a regional security and stability provider. Minsk's status as a peacemaker and intermediary in negotiations in the Ukraine crisis would be called into question, if Belarus is involved in a new Cold war. Moreover, it will undermine the neutrality of Belarus from a military and political points of view, so it will lose all the dividends connected with its foreign policy. Threat perception has changed significantly since the Russia-Ukraine conflict and Belarus takes into consideration possible coercive scenarios in relations with Russia. Nevertheless, Moscow has all the necessary means to destabilize the situation in Belarus and even launch a coup attempt. The regimechange scenario is the most relevant one if the Kremlin is not able to involve Minsk in confrontation with the West and NATO or does not manage to take under control the power transit from Alexander Lukashenko to an independent and self-sufficient successor.