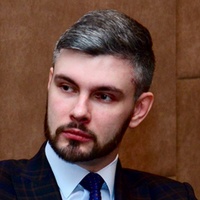 Arseny Sivitsky
The Co-Founder and Director of Minsk-based Center for Strategic and Foreign Policy Studies, Belarusian security and foreign policy analyst, focusing on international and regional security, strategic affairs, Russia and Eurasia, etc.
He graduated with honors and has Master's degree in Philosophy from the Belarusian State University. He is doing now his doctoral research in the field of Social Philosophy and Methodology of Science at the Institute of Philosophy, Belarusian National Academy of Science. He also works there as a research fellow at the Center for Study of Globalization, Integration and Socio-Cultural Cooperation.
He is a military officer in reserve of the Armed Forces of the Republic of Belarus, specialized in use of multiple launch rocket systems (MLRS) and anti-tank guided missile systems (ATGM). He graduated from the Reserve Officer's Training Corps of the Military Department of the Belarusian State University, then from the 72nd Guards Joint Training Center of the Armed Forces of the Republic of Belarus (with honors).
He is a permanent participant of the international seminar "NATO and global security" (NATO Department of Public Diplomacy, Center for Foreign Policy and Security Research) and International Round Table on Innovations in International Studies (Center for International Studies, Belarusian State University).
As an independent foreign policy and strategy adviser he cooperates with a range of consultancy agencies, specializing in investment, political and security risks assessment and post-soviet space area. He has wide experience in holding briefings for political and military officials and participating in political and military simulations (wargames). He lives and works in Minsk, Belarus.
He is a participant of various educational and expert programs and events dedicated to international relations and security affairs of research and analytical organizations of the EU countries, Russia, the USA and China.
Full CV is available on Linkedin
Contact e-mail:: sivitsky@forstrategy.org