Изображение: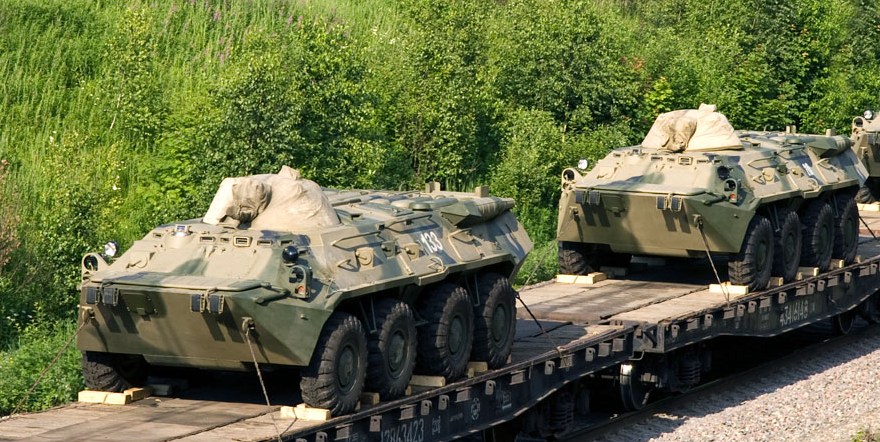 Will Russia Occupy Belarus In 2017?
Recently, the Russian Ministry of Defence disclosed logistical data of railway traffic to other countries for the upcoming year. It revealed that the Kremlin is planning to significantly increase the amount of military cargo headed for Belarus.
This may be a sign that Moscow is preparing to redeploy a large number of Russian troops to Belarus in 2017.
A piece by Belarus Digest predicted that the Kremlin is trying to transform Belarus into a flash point for menacing NATO and Ukraine by deploying its military capabilities on Belarusian territory. Unfortunately, this prediction is corroborated by the aforementioned logistic data, as well as the fruitlessness of the meeting between Alexander Lukashenko and Vladimir Putin in Moscow.
The negotiation agenda: two different angles
On 22-23 October 2016 Alexander Lukashenko paid a working visit to his Russian counterpart Vladimir Putin to discuss bilateral economic problems. The lack of official comments on the results of the negotiations in Moscow raises some doubts about its real agenda. Moreover, the current state of affairs demonstrates that the Kremlin is unwilling to compromise and will continue to put pressure on Minsk.
Significant economic problems have been accumulating in Moscow-Minsk relations since the Russia-Ukraine conflict in 2014. The list of grievances includes permanent trade wars and restrictions of Belarusian goods on the Russian market, the gas price dispute and the incomplete delivery of oil to Belarus from Russia, and the sudden implementation of controls on the Belarusian-Russian border.
However, Alexander Surikov, the Russian ambassador to Belarus, announced shortly before the meeting that the two presidents would not be discussing economic problems. According to him, Vladimir Putin and Alexander Lukashenko would focus on political issues in the changing international context. He did not specify which 'changes' were implied.
Nevertheless, it seems that Putin had already set the political agenda for negotiations with Lukashenko during the Asia-Pacific Economic Cooperation Summit in Peru on 21 November 2016, one day before the meeting in Moscow. He explained why Russia is so alarmed by NATO's expansion and stressed that the 'situation is heating up'.
Without doubt, Putin did discuss the current security situation in the region with his Belarusian counterpart. According to Kremlin strategists, upcoming deployments of four NATO battalions in Poland and the Baltic states will undermine the strategic stability of the region.
For this reason, Putin believes that Belarus must participate in Russia's military response to NATO's activities on its Eastern flank. Part of this response includes the large scale 'Zapad / West 2017′ military drillstaking place on the territory of Belarus and Kaliningrad next year.
Military drills or occupation?
However, the newly revealed logistical data of Russian military cargo to Belarus illustrate the Kremlin's far-reaching strategic designs. It seems that Moscow is planning to redeploy a large number of Russian troops on the territory of Belarus for purposes other than military drills.
According to these data, the Russian Ministry of Defence plans to send 4,162 railway carriages to Belarus next year. This would be 33 times more traffic than in 2015, and 83 times more traffic than this year. Some more argue that this increase in flow is connected with the 'Zapad/ West' joint strategic military exercises taking place next September.
However, comparing next year's logistical data with the number of railway carriages coming from Russia in 2013, during the previous 'Zapad' military drills, paints a rather different picture.
The Russian Ministry of Defence sent only 200 railway carriages to Belarus that year. Moreover, almost half of the motorised brigade of the Russian Armed Forces (comprising 2,500 troops) took part in the joint military exercises on the territory of Belarus.
In contrast, next year the Russian Ministry of Defence is planning to send 20 times more railway carriages to Belarus than during previous 'Zapad' drills in 2013. What's more, the Kremlin's strategists are not required to publish certain military logistic data in open sources. This is a usual practise. Therefore, to get a more realistic idea of the scale of Russian troops' redeployment to Belarus, the number of railway carriages should be multiplied at least by a factor of 1.5.
This logistical military data indirectly confirms that Russia is going to redeploy a number of troops to Belarus almost equal to the 1st Guards Tank Army of the Western Military District, and not simply participate in regular military drills.
Obviously, the Kremlin does not need this many troops for training purposes. A more likely scenario is that Russia plans to transform Belarus into an outpost for military confrontation with NATO. Specifically, Russia may use Belarusian territory in order to generate security threats and challenges to the Baltic states.
In order to accomplish this, the Kremlin must first set up a strategic military presence on the territory of Belarus. Obviously, if this many Russian troops arrive in Belarus, it will be difficult to send them home later. Without doubt, this is detrimental to the sovereignty and independence of the Belarusian state.
Implications of the meeting in Moscow
Notably, this Russian military logistical data appeared in open sources one week prior to Lukashenka's visit to Moscow, despite the fact that Belarusian military officials had not yet ironed out the details of next year's 'Zapad' drills with their Russian counterparts.
In this regard, the publication of these data can be seen as a tool to put psychological pressure on Minsk in order to bring Belarus into line with the Kremlin.
Simultaneously, the Russian media launched an information campaign dedicated to Belarus immediately following Lukashenka's visit to Moscow. Even certain federal-level Russian TV channels, such as 'Channel One Russia' and 'Zvezda', reported on the topic of Belarus
Some journalists' stories drew parallels with the situation in Ukraine. According to them, the same fate of destabilisation awaits Belarus, as Western intelligence agencies are preparing a colour revolution to overthrow Alexander Lukashenko.
Other stories focused on the growth of nationalist sentiment and 'Russophobia' in Belarusian society, as well as an outburst of right-wing oppositional political movements and parties. 'Zvezda', the TV channel of the Russian Ministry of Defence, warned explicitly that Alexander Lukashenko could be overthrown by Ukrainian provocateurs and so on.
Belarus Digest has written articles outlining a hypothetical coup scenario in Belarus launched by the Kremlin. According to this sequence of events, Russian-backed sabotage groups could operate as Belarusian nationalists or 'Ukrainian provocateurs'. In another scenario, based on the failed tactics of plotters in Montenegro, Russian agents could also pose as local security forces.
It seems that the Kremlin is preparing Russian public opinion for a serious crisis in Belarusian-Russian relations. The fruitlessness of Alexander Lukashenko's visit to Moscow also signals that Belarus is refusing to become a Russian military outpost in the event of a confrontation between NATO and the West.
In the future, an intensification of tension and an increase in coercive measures by the Kremlin — should Belarus continue to defend its national sovereignty and independence — is possible. This could even entail a coup attempt and destabilisation as an excuse for the Russian military to intervene in Belarus and instal a fully pro-Kremlin regime in Minsk.
Without a doubt, such a pro-Kremlin regime would acquiesce to however many Russian troops the Kremlin desires on Belarusian territory.