Изображение: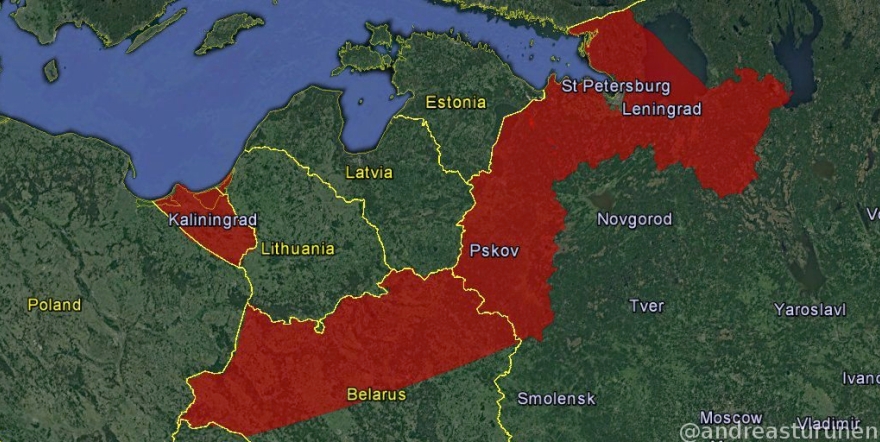 Why does joint Russian-Belarusian military exercise Zapad-2017 cause concern?
From september 14 — 20 large scale joint military exercises of Russia and Belarus will take place in Belarus. Zapad-2017 is a show of force towards the West and NATO. Little known is that simultaneously across the Russian border substantial Russian drills are taking place, says Belarusian political analyst Arseni Sivitski from Minsk. Relations between Belarus and Russia are tense. Belarus is not interested in problems with the West, nor with its neighbours. What to expect?
Since 2008 Russia has been instrumentalizing large-scale military exercises for geopolitical ends, transforming them in a dangerous and menacing tool of its foreign policy. 'Kavkaz-2008' was followed by the Russian invasion of Georgia, and there were rapid reaction drills of the Russian Armed Forces on the Russian-Ukrainian border shortly before the annexation of Crimea and the destabilization of the Donbass in 2014.
Lukashenko and Putin, here in St Petersburg, have an uneasy partnership
It is thus understandable that there are a lot of concerns about the upcoming Zapad-2017 exercises (Zapad means 'the West') planned for september on the territory of Belarus and Russia. As formal strategic military ally of Russia Belarus is in the thick of things, trying to keep its distance from the Kremlin while at the same time demonstrating loyalty and fulfil its commitments to Moscow.
More and more countries sound the alarm. According to the Ukrainian Minister of Defence Stepan Poltorak, Zapad-2017 can be used to start aggression not only against Ukraine, but against all countries in Europe that share a common border with Russia. The Ukrainian military intelligence (GUR) states that the troop location of the Zapad exercises in 2013 in Belarus fully coincided with the subsequent expansion of forces along the Russian-Ukrainian border in 2014.
Polish Defence Minister Antoni Macierewicz stated that Poland must consider the possibility that Russian troops will stay on the territory of Belarus after the exercises. Estonian Minister of Defence Margus Tsahkna assumes that Russia will use the deployment of thousands of troops in Belarus as a warning to NATO.
Lieutenant General Ben Hodges, Commanding General of the U.S. Army in Europe, describes Zapad-2017 as a 'Trojan horse' for Eastern Europe. Russia might also keep its military equipment without troops in Belarus, for a possible future military attack against neighbours as Poland or the Baltic states, by severing them from other NATO members through the so-called Suwalki gap from Belarus to Kaliningrad. There are even analysts who see Zapad-2017 as preparation for an actual military attack against NATO.
Since 2015 the Kremlin has been demonstrating a clear strategic intention to transform the territory of Belarus into its military outpost. The West as well perceives Belarus as a political-military appendix of the Russian Federation with no independent military policy.
Since the Ukrainian crisis Minsk has been trying to keep a distance from its main strategic ally and maintain neutrality in the confrontation between Russia and the West. It blocks any option to use its territory for aggressive purposes. Therefore, the Belarusian president Aleksander Lukashenko in 2015 refused to establish a Russian airbase in Belarus. Minsk tries to prevent regional escalation, but Russia has its own strategy.
Two separate drills
What is less known in the West is that there are actually two Zapad drills. There is the Belarus-Russia joint military exercise from September 14 to 20, mostly on the territory of Belarus. But at the same time there is a separate Russian exercise on Russian territory that we know very little of. Belarus is responsible only for the planning of Zapad on its own territory and is not involved in the drills in Russia.
Simultaneously with Zapad-2017 there will be military exercises on Russian territory
The rhetoric of the Belarusian officials, in the meantime, sends contradictory messages. On June 13, 2017, during a meeting with defense ministers of the member states of the Collective Security Treaty Organization (successor to the Warsaw Pact) Lukashenko commented Zapad as follows:
'The Belarusian-Russian army exercise Zapad-2017 will take place in Belarus this autumn. We will perform this exercise, regardless of any pressure. And we intend to make it a large-scale and very serious exercise'.
On July 3, 2017, during the Independence Day parade, Lukashenko voiced his concerns about the policy of militarization of the European countries, the deployment of US missile defense systems near the borders of Belarus as well as the building up of its nuclear potential. He emphasized: 'Together with brotherly Russia we defend the borders of our emerging Union State of Belarus and Russia'.
These statements echo those of Russian Defence Minister Sergei Shoigu, who last November in Minsk said that the scenario for the Zapad-2017 exercises would 'take into account the situation of increased NATO activity along the borders of the Union state'.
On the other hand, the Belarusian Ministry of Defence and General Staff, in contrast to their Russian counterparts, don't consider NATO's 'enhanced forward presence' in the Baltics and Poland as a direct military threat to Belarus. Nevertheless, there is no doubt that Kremlin strategists are considering the Zapad manoeuvres as part of a broader joint strategic design. For them the Belarusian territory is simply operational space for the 1st Guards Tank Army and other formations of the Western Military District of Russia.
Test of combat readiness
According to the Belarusian Defence Minister Andrei Ravkov, the joint military exercise will be defensive by nature. It aims to test the combat readiness of the Regional Group of Forces, to cope with the defence of the Union State of Russia and Belarus, a bilateral form of close state cooperation that originated in the year 2000. This joined army group was formed to integrate the forces of Belarus and Russia to protect both countries. Since then joint military exercises have been taking place on a regular basis.
Today the Regional Group of Forces includes all 65 thousand Belarusian troops and 50 thousand troops of the 1st Guards Tank Army of the Western Military District of Russia. Reestablished shortly after the beginning of the Russia-Ukraine conflict, the 1st Guards Tank Army is a powerful offensive force with 3 divisions and 3 manoeuvre brigades. It numbers approximately 700 tanks, 1 300 other armoured vehicles, 500 artillery and multiple rocket launchers, with a dense, mobile-radar air defence umbrella.
According to our military sources a total of 12 700 troops will be involved in the military manoeuvres on the territory of Belarus (10 200) and neighbouring regions of Russia (2 500), including 3 000 soldiers from Russia coming to Belarus. Approximately 680 military equipment (370 armoured vehicles, including 140 tanks, 150 pieces of artillery and multiple rocket launchers and 40 fighter jets and helicopters) will take part, 280 of which are send in from Russia.
Russian armed forces are not allowed to operate on the territory of Belarus without official permission and invitation. The Regional Group is activated only in wartime, after a joint decision of the Belarusian and Russian leadership.
According to our military sources, the scenario of Zapad-2017 is based on conflicts in Northern Africa and the Middle East. It starts with a presumed deterioration of relations between states due to intensified interethnic and religious contradictions as well as territorial claims. Belarus will fight imaginary enemies and the conflict zone will not exceed its real geographic territory. The warring parties are called the 'Westerners' (nicknamed 'Veishnoriya', 'Vesbariya', 'Lubeniya', located in Lithuania, Poland and Latvia) and 'Northerners' (Belarus and Russia).
Briefing of Belarusian ministry of Defense on Zapad-2017. 3 'war zones' are located on the map.
According to the scenario, the 'Westerners', a 'coalition of interested states', are trying to divide Belarus and Russia with political, economic, diplomatic and information measures. They plan to aggravate the social-political situation in Belarus and provoke a regime change. Their attempts to achieve these goals are unsuccessful, but they nevertheless manage to destabilize some border regions in Belarus. Then the Westerners start preparations for outright aggression against the Northerners, as 'Veishnoriya' is trying to annex some regions of Belarus.
In this way Belarus tries to prevent a full scale war, while Russia is providing its ally with political, financial, technical and military assistance. The Regional Group of Forces defends the state border, organizes counter-sabotage activities, blocking and elimination of illegal armed formations.
Needless to say: this scenario has nothing in common with the current political-military situation in the region, especially when it comes to the relations between Belarus and the West. Belarus doesn't have any interethnic or interreligious problems, nor territorial disputes with its neighbours.
Some analysts point to the fact that 'Veishnoria', one of the 'enemies' in the scenario, includes the north-western part of Belarus, populated mostly by Belarusian Catholics and a Polish-speaking minority. 'Lubeniya' is situated in the north-east of Poland and the south-west of Lithuania and 'Vesbaria' is located in Lithuania and Latvia. This mapping coincides with the military map of earlier exercises during Zapad-2013.
In 2013, according to Russian military strategists, the script read that 'illegal armed formations and terrorist groups' backed by some Western states (presumably Poland) destabilized the political-military situation and provoked uprisings of ethnic (Polish) minorities in Belarus. For Zapad-2017 Russian deputy Defense Minister Alexander Fomin used a similar scenario. According to him, extremist groups with outside assistance infiltrate and with terrorist actions destabilize the situation in Belarus and Russia's Kaliningrad region.
However, the political-military situation has changed dramatically since 2014. The Belarusian leadership doesn't believe that NATO will attack Belarus or Russia. Minsk also doesn't suspect Western countries to stage a regime change or colour revolution in Belarus.
Since the Russia-Ukraine conflict Belarus reckons with risks and challenges not only from the West, but from the East as well. The new Military Doctrine of Belarus, adopted last year, uses the term 'internal armed conflict' in the sense of 'hybrid warfare'. It even hints to the 'hybrid warfare methods' of the 'Gerasimov doctrine' , used by Russia's Armed Forces during the Russia-Ukraine conflict.
Unprecedented transparency
To reassure western partners the Belarusian authorities will take unprecedented trust-building and transparency measures. According to Defence Minister Ravkov, Belarus is going to invite over 80 international observers to monitor Zapad-2017: 'Although the number of personnel, the number of armoured fighting vehicles, artillery systems, and Air Force units earmarked for the Zapad-2017 exercise are below the threshold figures that trigger notification protocols (Vienna Document), we will invite our partners to come and see with their own eyes that the exercise does not have the goals they claim it does. Invitations will be sent out not only to military attaches accredited with the Belarusian Defence Ministry but also to a number of international organizations such as the United Nations Organization, the OSCE, NATO, the Collective Security Treaty Organization, the Commonwealth of Independent States, and the International Committee of the Red Cross.'
Observers from neighbouring states — Ukraine, Poland, Lithuania, Latvia, Estonia. Sweden and Norway — are invited as well. Major General Pavel Muraveiko, Deputy Chief of the General Staff of the Belarusian Armed Forces, gave a very detailed briefing on the exercises to the OSCE member states to show that Belarus totally complies with the 2011 Vienna Document on Confidence- and Security-Building Measures. (This briefing was shared with us by our military sources from the Belarusian Defence ministry). Some 150 media representatives have been accredited to cover the exercise.
Drills will take place at seven training grounds in Belarus: Lepel, Borisov, Losvido, Osipovich, Ruzhanskiy, Domanovskiy, as well in an area near the settlement of Dretun, that are located sufficiently far from the state border to ease possible tension with neighbouring states, according to Major General Pavel Muraveiko.
On August 29 the first Deputy Defense Minister, Chief of the General Staff Oleg Belokonev stated that although the number of national and NATO related military exercises in the region has doubled in the last eight years while the number of troops involved has more than tripled, Belarus remains calm. Belarus is trying to prevent any escalation of tension in the region, but the Kremlin has a different agenda.
Green: exercise locations of Zapad-2017. Orange: Russian military infrastructure. Purple: Byelarusian military airfields that Russia would like to use for its airforce (source InformNapalm.org)
Echo of the Cold war
Since 2014 the Kremlin has been conducting large-scale military exercises and rapid combat readiness checks with a total amount of 60 000 — 120 000 troops. This is what Mark Galeotti, expert on Russian security affairs, defines as 'heavy metal diplomacy', intended to divide, distract, and deter the EU and NATO from challenging Russia's activities in its immediate neighbourhood. It consists of threats of potential military action, war games that simulate such operations, the deployment of combat units to convey a political message, and intrusions close to and into European airspace, waters and even territory. It seems likely that Zapad-2017 also will be a strategic message to the West.
Since the 1970s, the Zapad military exercises have served as a demonstration of future military actions and techniques. According to NATO, manoeuvres hit their peak in 1981 when between 100 000 and 150 000 Soviet troops took part in exercises simulating the invasion of Germany and the deployment of nuclear strikes against the West.
After the collapse of the Soviet Union Russia stopped its large-scale Zapad drills, only to restart them in September 2009, one year after the Russia-Georgia war that was the first post-communist military confrontation between Moscow and the West.
In Zapad-2009 12 500 military personnel (7 000 from Belarus and 6 000 from Russia) participated. It took place in the area of Belarus and Kaliningrad bordering the Baltic region. However, it was also a part of Russian large-scale 'Autumn-2009' military manoeuvres with focus on a full war scenario, that started with 'Kavkaz-2009' in July and ended by 'Ladoga-2009' in September.
More than 33 000 Russian military personnel plus an unknown number of other security units were involved. It simulated not only an invasion of Lithuania and Poland through the so called Suwalki gap but also a tactical nuclear strike on Warsaw, according to western analysts. In 2013 again 12 500 military took part in the manoeuvres in Belarus, but the Russian contingent was reduced to 2 500. But simultaneously the Kremlin organized on Russian territory its own Zapad exercise with 75 000 military and other security personnel.
Since the US Congress has expanded its sanctions against Russia and the Kremlin has promised an 'asymmetrical' response, Russia definitely will use its own Zapad large-scale manoeuvres to send a strategic message to the West.
Recently the volunteers of the InformNapalm international intelligence community, monitoring social networks and analyzing photographs, have documented how Russia, since the beginning of August, started a large-scale redeployment of military equipment along the entire European border: from the shores of the Baltic Sea in St. Petersburg to the shores of the Black Sea, including the occupied Ukrainian Crimea. Ground, airborne, navy, strategic and airspace troops take part. One of the elements of the exercise on Russian soil will be the so called 'implementation of martial law' in the Russian Federation. The National Guard forces (Rosgvardiya) and other security agencies will take part. As the Western and Southern military districts as well as the Artic joint strategic command will be involved in the manoeuvres, it is my calculated guess that the number of military, national guard and other security formations might add up to 150 000.
Substantial gap between Russian and NATO military exercises (graphics Atlantic Council)
According to the Russian Defence Minister the joint exercise on the territory of Belarus will be defensive by nature. But he gives no details about the manoeuvres on Russian territory. Analyses of Russian specialized military publications, written by military commanders and analysts, lift the veil of secrecy. It is likely that it will focus on so called 'strategic deterrence' that checks the effectiveness of cooperation and coordination of all branches of the Russian Armed Forces and other security agencies in the European theatre of war, thus examining the option of a conflict between Russian and NATO.
The scenario probably will be a combination of defensive and offensive operations of Russian troops and combat actions of other security agencies against adversaries on the ground, in airspace, at sea and in the cyber domain. It will include special operations on blocking naval zones (for instance, in the Baltic and Black sea), establishing no-fly zones (A2/AD bubbles from the Baltic to the Black Sea), asymmetric actions aimed at destabilizing the political and military situation, blocking maritime logistics, organize technogenic disasters, offensive cyber-operations and disinformation campaigns.
Attention will also be paid to strikes with precision-guided long-range weapons for damaging critical infrastructure in NATO member states and, of course, the use of the nuclear weapon. The Russian Military doctrine explicitly allows a first strike or preventive use of nuclear weapons even in case of a conventional conflict. Russian strategists view it as an effective tool for de-escalation.
All in all, the Zapad-2017 drills will be very massive, large-scale, aggressive, provocative and offensive.
Kremlin's next strategic surprise?
Since the beginning of the Russia-Ukraine conflict tensions between Russia and Belarus have been rising, as the Kremlin demands more political, economic and military strategic concessions from Belarus. Russia wants to transform Belarus into a new Cold War outpost to be able to use an escalation strategy towards the West and generate conventional and hybrid threats to NATO member states and Ukraine. Moscow needs full access to the territory of Belarus in the case of a large-scale military conflict with NATO (because of the enclave Kaliningrad that is situated within EU territory — see map).
Alexander Lukashenko tries to maintain neutrality by refusing to host Russian military bases on Belarusian territory, but this position contradicts the Kremlin's strategic intentions. There is only one crisis scenario that would give the Kremlin the possibility to keep its troops in Belarus after Zapad-2017: in case of terrorist attacks, activities of anonymous sabotage groups or other provocations, the Kremlin undoubtedly will use them as an excuse to put pressure upon official Minsk, propose its military assistance, increase its military presence and conduct joint counter terrorist operations on the territory of Belarus to restore the constitutional order. Remarkably: on August 16, 2017 a man was arrested in Mogilev (Eastern Belarus), suspected of producing improvised explosive devices.
However, if there are no unexpected surprises and provocations, Russian troops after Zapad-2017 will leave Belarus by september 30. In the context of Russia's unpredictable behavior Minsk will not give up its balancing act. Russian permanent military presence on the Belarusian territory would be a game-changer that will question the neutral status of Belarus and feed the confrontation between Russia and the West. It will also cast doubt on Minsk as the place for negotiations of the OSCE Contact Group on Ukraine, and will undermine all the dividends Belarus has gained from a normalization of its relations with the West. In all cases Belarus must be prepared for a new round of pressure of the Kremlin.
Read also comment of Warsaw think tank OSW: Zapad-2017 is merely a tool in the Russian information war with the West.