Изображение: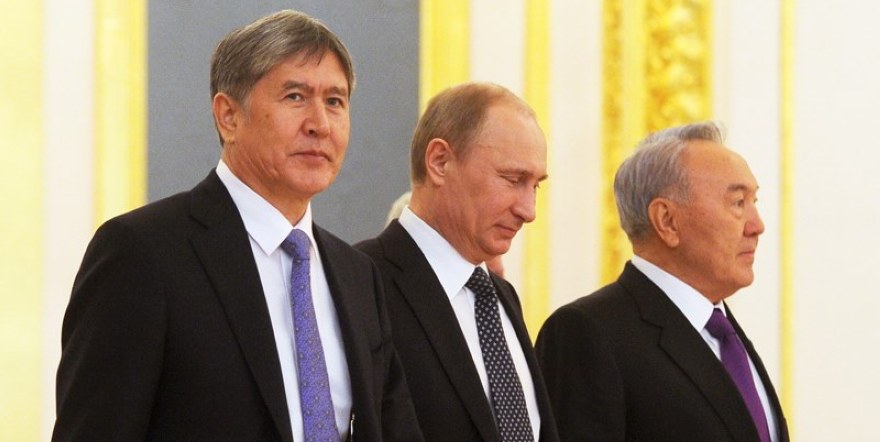 Kyrgyzstan-Kazakhstan row
In the run-up to the presidential election in Kyrgyzstan that took place on 15 October 2017, relations turned sour with the country's northern neighbour, Kazakhstan. On 7 October, the incumbent, President Almazbek Atambayev, lashed out against his Kazakhstan counterpart, Nursultan Nazarbayev, for meeting one of the Kyrgyz opposition candidates, Omurbek Babanov, and allegedly supporting him with money. This was followed by a harsh response from Kazakhstan's Ministry of Foreign Affairs.
On 9 October, Astana sealed the border with Kyrgyzstan in order to "prevent illegal actions" and "to detect individuals involved in terrorism and smuggling." This caused chaos on the border, with long queues of citizens, tourist buses, and freight trucks unable to cross it.
Atambayev then went even further, criticizing Kazakhstan (although not mentioning the country explicitly) in an interview with Time magazine, threatening to destroy any candidates who were "foreign puppets" and urging the population to vote for the "correct candidate" — that is, Atambayev's own protégé and "successor", So'oronbay Zhe'enbekov.
Atambayev's intervention in the electoral process was so vigorous that some experts expressed worries over a possible outbreak of violence in case Zhe'enbekov received fewer votes than Atambayev expected. The incumbent president even informed the public of alleged preparations for a coup d'état revealed by the country's law- enforcement agencies.
The election ended in the first round with a decisive victory for Zhe'enbekov, who received over 54% of the votes. Babanov took a bit over 33% and did not try to contest the results. The turnout was almost 56%.
As experts have noted, Nazarbayev's support of Babanov — and the anti-Kazakhstan campaign that followed from Atambayev — played a significant role in mobilizing the pro-Zhe'enbekov electorate.
Babanov's attempt to attract support from the Uzbek minority failed, in large part because the Uzbek population associates Atambayev's rule favourably with the opening of the Uzbekistan-Kyrgyzstan border. At the same time, Babanov's courting of the Uzbek minority very likely alienated him from parts of the native Kyrgyz population in the south of the country.
The end of the electoral campaign did not bring good news for Kyrgyzstan-Kazakhstan relations. As the border was still locked, Bishkek filed complaints on Kazakhstan's conduct to the Eurasian Economic Union and the World Trade Organization. Later on, Kyrgyzstan's Ministry of Agriculture announced that, due to maintenance works, they would have to release reservoir waters of the Kirov hydro-power station, which would affect the territory of Kazakhstan. Astana, however, did not give in to this blackmail and declared that it was ready to take the consequences.
The visit of Kyrgyzstan's prime minister, Sapar Isakov, to Astana on 18 October did bring some improvements. Namely, the parties agreed to open the border, at least for citizens, tourist buses, and empty freight trucks. However, it remains to be seen how those agreements will be implemented.
Where is Russia in this story?
Russia tried to distance itself from developments inside Kyrgyzstan, as well as from Bishkek-Astana relations. Atambayev's attempts to find support from Moscow ­— that included suggesting to deploy Russia's second military base in Kyrgyzstan — were not successful. In the wake of elections in Kyrgyzstan, Russia's deputy Minister of Foreign Affairs, Grigori Karasin, unambiguously turned this suggestion down.
During the Sochi summit of the Eurasian Economic Union and the Collective Security Treaty Organisation on 11 October, Vladimir Putin communicated personally with Nazarbayev, thus appearing to display support for Kazakhstan. There have been no signs of Russian support for Zhe'enbekov.
However, Russia's apparent adherence to neutrality in Central Asia should not be overestimated. It most likely reflects not its strategic stance, but rather its desire to strip Kyrgyz politicians of the opportunity to exploit Russia's public support to them for their own interest.
Strategically, Russia is well positioned to consolidate its influence in the region. It is worth noting that Atambayev's suggestion to deploy Russia's second military base in Kyrgyzstan did not come out of the blue. Russia is consistently pushing an anti- terrorist agenda in Central Asia, presenting Islamic State as a major security threat in the region.
Only two weeks ago, the Commonwealth of Independent States' Anti-Terrorism Centre stated that "the Islamic State exports a new, adapted model of terrorism to Central Asia." This exaggeration of the threat posed by IS has been constantly used by Russia to cover up its other operations in the region — for instance, its cooperation with the Taliban, which was justified as an alleged way to counter the rise of IS in Afghanistan.
So it could well turn out that Russia's eagerness to distance itself from the Kyrgyzstan- Kazakhstan row reflects, above all, its desire not to be bound by any political obligations. This conforms with a growing unilateralism in Russia's foreign policy in the post-Soviet region.
In this context, Atambayev's dangerous game of provocation might not only be aimed at ensuring his own indispensability in Kyrgyzstan politics. He might, in addition, be playing into the hands of Moscow. After all, if the Kyrgyzstan-Kazakhstan conflict will require mediation at some point in the future, who else apart from Russia could play the role of referee?