Изображение: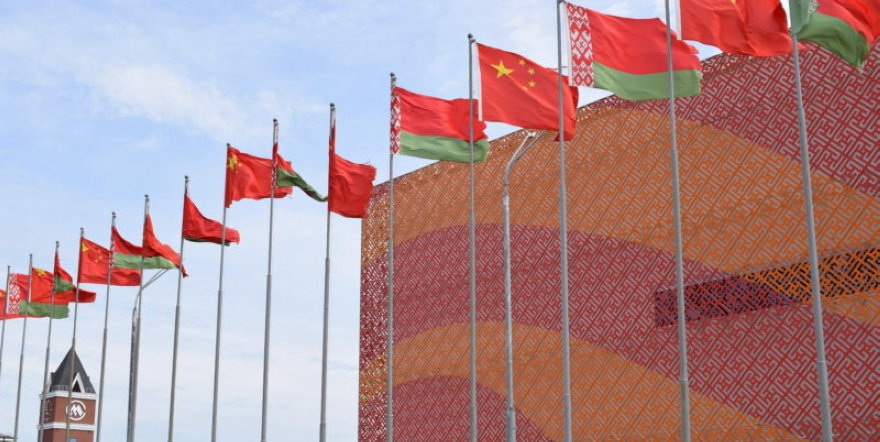 Visitors to Minsk National Airport, the main air-hub in Belarus, might be surprised to hear public announcements in Chinese echoing through the arrivals hall.
Last October, the airport administration added Mandarin to the list of its service languages, on a par with Russian and English.
After some public criticism, the country's second official language, Belarusian, appeared on the flight information board and airport's website too.
Belarus' capital Minsk, where the nation's native language is rarely heard spoken in public and which doesn't get many Western tourists yet, has embraced multilingualism. Chinese characters can be seen on some street signs and tourist information stands in the downtown. The two largest banks in the country, Belarusbank and Russian state-owned Sberbank, also added Chinese to their ATM menus.
Local officials say this is because the number of Chinese visitors to Belarus is growing. The two nations recently introduced a mutual 30-day visa-free regime and there are four direct flights from Beijing to Minsk every week.
There is, however, a bigger reason besides wooing Asian tourists, who, according to statistics, are still far fewer in number than visitors from neighboring Russia, Lithuania, Latvia, and Poland.
The former Soviet country, which has been a pariah on the international stage, is now striving to become a regional hub for China's $1-trillion cross-continental economic project, the Belt and Road Initiative.
Great Stone
Some 25 kilometers outside of Minsk, China and Belarus are building a giant industrial park called Great Stone.
Besides its industrial zone, it will include a logistics hub, a financial center, and a residential quarter with housing for up to 200,000 people. Located in a thick pine forest, the new town will occupy 112 square kilometers — about the size of Barcelona or Dublin.
The construction began in summer 2014 but it has picked up speed only in the last couple of years. The majority of the 36 companies that have taken up residence in the park so far came last year. They are, to name a few, Chinese telecoms giants ZTE and Huawei, agricultural machinery maker Zoomlion, and electric vehicles maker Chengdu Xinzhu; Austrian wood panel manufacturer Kronospan; and U.S. fiber laser maker IPG Photonics.
Interest in the park also increased after it was declared to be a key element in the Belt and Road Initiative. Also dubbed as the New Silk Road, this ambitious project aims to connect China to Europe through various overland and maritime routes across Asia, Africa, and Europe. To do so, China is providing billions of dollars in loans for roads, railways, seaports, pipelines, and other infrastructure.
At Great Stone, the state-owned China Merchants Group is building a logistics hub with warehouses and a railway terminal from which Chinese goods will be shipped to Germany's inland port of Duisburg, at the confluence of the Rhine and the Ruhr. On the other hand, as Belarus is a member of the Eurasian Economic Union, the foreign companies working in the park will have access to a market of 183-million people in Russia, Armenia, Kazakhstan, and Kyrgyzstan.
"The convenient location and logistics routes are important factors," said Darya Matskevich, a senior investor relations manager for Great Stone. "Minsk National Airport is 5 kilometers away. The E30 highway, which runs from Moscow to Berlin, is right here too. This year we're planning to lay rail tracks from the park to the main railroad."
Matskevich pointed to an area not far from the massive red-colored expo center building: "There will be a center for the commercialization of results of scientific achievements," she said, quickly adding: "You can call it a business incubator. It will be a joint project of Great Stone with the Belarus National Academy of Science to turn scientific discoveries into commercial projects."
The long-winded name, typical of Soviet-era establishments, given to the modern startup business concept, describes well the fascinating collision between the country's progress in tech and its lingering Soviet legacy.
Matskevich's repeated references to presidential directives, presidential decrees, or the General Plan for the Development of the Park when talking about Great Stone's operations underlined that Belarus remains a state-controlled, command economy under its long-serving autocratic leader Alexander Lukashenko. A project as grandiose as Great Stone could not happen without his direct instruction.
Great Stone offers extremely attractive conditions to its residents. "The idea is to approach the needs of each investor individually," said Matskevich.
The list of tax preferences is impressive, and things normally forbidden by law, such as buying a land plot or opening accounts in foreign banks, are allowed for park residents.
Investors may also lease land for 99 years. They get ready-to-use land plots cleared of trees and connected to necessary infrastructure such as water, gas, and electricity. Foreign investors can also build their offices and manufacturing facilities according to foreign construction norms.
Great Stone is a bonded area, where goods for export can be processed and manufactured without incurring duty, and it is also a tax-free zone, secured until 2062. No profit tax will be charged for the first 10 years, and no dividend tax for the first five years. In subsequent years, both taxes are paid at reduced rates. There are no land and property taxes. And there is no value-added tax on materials and equipment imported for the construction of factories in the park.
"The government guarantees that the tax-free regime will not change," Matskevich said.
But how does Belarus benefit from this generosity?
"It gets innovation and investment," Matskevich said. "We're primarily interested in innovative products with high export potential."
Companies working in biotechnology, e-commerce, engineering, pharmaceuticals, big data processing and storage, electronics and telecommunication are top of the list of the firms that Great Stone wants to attract. No hazardous or polluting production is allowed.
Investors who set up operations in the park have to invest at least $5 million.
One Belt, One Road
Initially, China reserved the role of its "springboard to the European market" for Ukraine, said Arseny Sivitski, director of the Minsk-based Center for Strategic and Foreign Policy Studies.
In 2013-2014, China announced a number of large investment projects with Ukraine in agriculture, energy, and infrastructure, including an industrial park in Crimea, in anticipation of Ukraine signing a political and trade association agreement with the European Union.
However, the government of then-President Viktor Yanukovych attempted to change the country's course, seeking closer ties with Russia. The decision sparked mass protests that drove Yanukovych out of power in 2014, which were followed by Russia's invasion and occupation of Ukraine's Crimea and the launch of the Kremlin's war on Ukraine in the Donbas in spring 2014.
For China, it meant Ukraine's traditional land and sea transport links had been broken. The political turbulence forced Beijing to shelve its plans and turn its attention to landlocked Belarus, which was under Western sanctions at that time, Sivitski said.
In 2015, Chinese leader Xi Jinping visited Minsk for the first time, where he and Lukashenko announced a new era for the strategic partnership between two nations and called the Great Stone industrial park a key element in the Belt and Road Initiative. The same year China Merchants Group began to build its logistics hub in the park.
Belarus President Alexander Lukashenko ® exchanges documents with his Chinese counterpart Xi Jinping during a signing ceremony in Minsk on May 10, 2015. Xi Jinping was on his three-day visit to Belarus. (AFP)
But Belarus will have to do a lot of work to meet the expectations of its Asian partner, and primarily, normalize relations with the West, Sivitski said. Although the United States and the EU lifted most of their sanctions against Belarus at the end of 2016, the Western democracies are still concerned about the repression of the opposition and restrictions on press freedom in the country.
"Chinese investment activity largely depends on how successfully Belarus can build relations with the West, and the EU in particular, since that's the target market for China," Sivitski said.
He said one way to do it could be to sign a cooperation agreement with the EU that would ease Belarus' access to the EU market.
"It would be interesting to explore the possibility of Belarus-Ukraine-China cooperation, considering Ukraine's Black Sea ports and railroad capacity," Sivitski said. "The EU is Ukraine's main trade partner and they have an association agreement (that came into force in 2017)."
At the same time, Minsk's dissatisfaction with Russia's aggressive foreign and economic policy seems to be growing. Earlier this year, Lukashenko accused the Kremlin of blocking Belarusian goods from the Russian market and lambasted the Eurasian Economic Union, Russian President Vladimir Putin's stillborn brainchild that has so far failed to produce a boost in trade between the member states.
In February 2017, Belarus allowed visa-free travel for citizens of 80 countries, including EU states, Japan, the United States, and recently said it wants to join the World Trade Organization by 2020.